NBA Playoff Betting Preview: Rockets vs. Spurs, May 9, 2017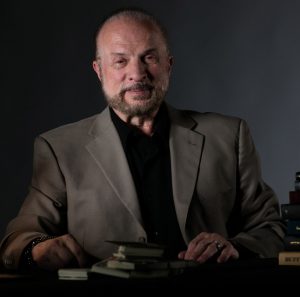 by Jim Feist
A battle in the Western Conference with the series tied 2-2 after  four  blowouts in four games! Houston had a stunning Game 1 rout of the Spurs, but San Antonio returned the favor in Game 2, 121-96, despite losing veteran point guard Tony Parker. The Spurs took command with a Game 3 win on the road, 103-92, before the Rockets tied things up the last game, a 125-104 rout.  Can anybody come from behind in this series?
The teams clash in a pivotal Game 5,  Tuesday night, May 9, 2017.  It's also a clash of styles, as Mike D'Antoni's Houston Rockets are all about running-and-gunning, while San Antonio is a powerhouse defensive team — although they got shredded in Game 1 allowing 126 points and the last game.  If there's a common thread it's Houston's three-point shooting: They hit 19 and 22 three-pointers in their two wins.   The Spurs are -5.5 home favorites with the total at 214.5.
#3 Houston Rockets (61-30; 27-18 away)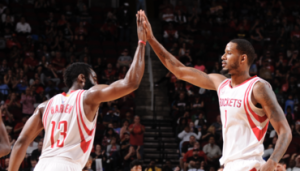 #3 Houston is on a 4-12 ATS run, beating OKC in 5 games.
The Rockets are #2 in the NBA in points scored, but #26 points allowed.
Game 4: Houston ties series 2-2 with a 125-104 rout. James Harden scored 28 points and Eric Gordon added 22 as the Rockets never trailed. Houston made 22 3-pointers in a blowout win in Game 1, then 19-for-43 in Game 4.  They shot 52.6% from the field the last game and are 4-12 ATS playing on one day of rest.
Houston suffered a key injury in Game 4 as backup center Nene suffered a torn left groin, out for the playoffs. Nene and Clint Capela were giving Houston solid production in the middle, but now the Rockets are forced to use forwards Montrezl Harrell and Ryan Anderson at center
(Jim Feist is on a 109-65 NBA run.  NBA and MLB cash Tuesday: Click: FastFactsToday)
San Antonio Spurs (67-25; 35-11 home)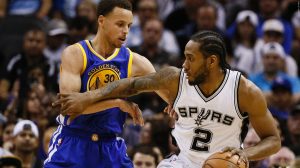 #2 Spurs: #2 in NBA in points allowed and field goal shooting D.
4th trip to Western Conf Finals in 5 years. Tony Parker (16.3 ppg, 3 apg) is done.
Guard situation: With Parker out rookie Dejounte Murray started the past two games and averaged five points and 1.3 assists. Patty Mills averaged 12.5 points and 3.5 assists but shot 8-of-21 from the field.
6-2-1 ATS after a loss. 7-1 run over the total. 14-3 over the total after a loss.
Head to head matchup:  The over is 6-1-1 at the Spurs, the road team is 7-2 ATS
Free scores and NBA odds daily at JimFeist.com